KYANON DIGITAL – TUYỂN DỤNG
KYANON DIGITAL
As a pioneer in digital consulting and production, we work to bring ideas to life by providing end-to-end services that are 100% accurate and impactful. We have two working models: technical team and project-based solutions – both designed to make your target a reality. When we work, we work with maximum effort.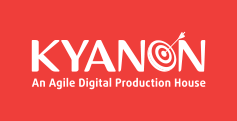 When we play, we play hard. Our team is not only passionate about work, we are also enjoy socializing together. We understand the importance of keeping a healthy amount of leisure in the workplace.
Position: Digital Designer
You will:
Work with account managers on discussing the client's business objectives and needs to developing a concept which suit their purpose
Design exceptional UI/UX for multiple platforms, devices

Design wireframe, user flow
Design daily content for digital campaign in various formats (gif images, videos, infographics, banner ads, etc…)
Design and present creative solutions for Digital campaigns such as Microsites/Landing Pages, Facebook, YouTube, eDMs, displayed banner ads, etc..

Design and present idea about interaction effect, visual effects for website, application to thrill users and improve their experience
Collaborate closely and actively with the creative team from client and internal team to ensure quality of project
Maintain high standards and ensuring only the best work is released
Support developers team to implement projects
Staying up to date with industry trends
You should have:
1 – 2 years of digital design experience in digital agencies or creative agencies
A general understanding of all aspects of Brand Communications
Proficiency in Photoshop, Illustrator, Sketch
Understand and able to use HTML, CSS
Attention to details but also have ability to think creatively, innovatively and deliver clever concepts
Effective communication skills, excellent management and prioritization skills
Having a passionated, willing-to-learn and "can-do" attitude but also be humble and respectful of others
Being able to perform well in a team and independently
Can using After Effect to create .gif and other basic motion picture
Having copywriting skill is a big plus
BA in Fine Art or Diplomas/Certificates in Design is an advantage
* Interested candidates kindly send your CV to career@kyanon.digital.
Kyanon Digital's Benefits:
A commitment to make your time with us the most transformational time in your career
Professional working environment with Agile methodology and Scrum framework.
Technical training sessions, Software Craftsmanship Courses, English and soft-skills Courses.
Challenging projects with dynamic and talented software teams
Opportunities to involved in multi-national projects, improving technical and English skill
Team-building and outdoor activities to for staffs' enjoying after work
Plenty of food, games and interesting activities in the office life
Work time: T2 – T6 / 8h30 – 18h (Rest time: 12h – 13h30)
Work Location: Kyanon Digital's Production House – 3rd Floor, Song Huong Cafe, 294 – 296 Truong Sa, Ward 2, Phu Nhuan Dist, HCMC
More information, please contact: 090 242 5906 (Mr. Vinh) or email: vinh.kyanon@gmail.com
Website: http://kyanon.digital/
Fanpage: https://www.facebook.com/kyanon.digital
Viện Đào Tạo Quốc Tế FPT
FPT Arena Multimedia – http://arena.fpt.edu.vn/